Javier Grillo-Marxuach - Dernière Actualité 2018/2019



Scénariste, Auteur, Producteur, Producteur exécutif et créateur de séries-TV américaines.
Né le 29 octobre 1969 à Puerto Rico.
Sa Famille :
Il a 2 frères. Il arrive aux USA à l'âge de 10 ans. Son père, oncologiste, a créé un fond caritatif, Hope Fund, qui oeuvre pour la recherche contre le cancer. J.G.M. s'y investie également, en l'associant avec l'Université du la Californie du Sud.
Sa femme, Sarah Baker, productrice, a donné naissance à sa fille Indra en 2016. Ensemble, ils vivent en Californie.


Sa Carrière :
La saga Star Wars lui a donné envie de devenir scénariste ou réalisateur, vers l'âge de 7 ans. Durant ses études, il écrit, produit et réalise autant de court-métrages que possible. Il débute sa carrière professionnelle en tant que 'junior development executive' pour la chaîne télévisuelle NBC, après avoir appris que cette chaîne de télévision recrutait sur le campus. Il n'était pas attiré par ce média mais savait que ce travail pouvait améliorer ses compétences. Deux ans plus tard, J.G.M. avait développé une passion pour l'univers télévisuel (Interview).
Son visage illustre la pochette de l'album No Jacket Required de Phil Collins, et est fan de Jean-Michel Jarre.
@OKBJGM : "the biggest difference between me and phil collins is that if you told me you were drowning, i probably would lend a hand." (05/03/2017)
Son premier travail important se déroule sur la série SeaQuest. Les producteurs, appréciant ses apports sur la série, l'intègre dans l'équipe des scénaristes. Les traces de son travail sur la saison 1 de la série Le Caméléon peuvent s'expliquer ainsi :
"I grew up on an island that is 100 miles long and 30 miles wide that is an uncertain commonwealth of the United States. A lot of Latino countries are dealing with a massive hungry brother in the North that seems to take and seems to impose. A lot of our narrative is about colonialism. It's about the escape into magic and the escape into fantasy. Our entire magical realist tradition is about a psychological adjustment to living in a condition of oppression so what you're saying makes complete sense to me."
screen.artshub.com.au
Plus tard, même s'il n'a pas vraiment travaillé activement sur la série-TV Dead Zone, ses idées ont contribué à l'élaboration de la saison 1.
En 2005, avec ses confrères producteurs Leonard Dick, Jean Higgins, Damon Lindelof, Sarah Caplan et J.J. Abrams, il remporte un prix au 57ème Emmy Awards pour la série Lost, dans laquelle l'acteur Jon Gries a eu un rôle secondaire. Ce qu'il dit de la série sur son blog et en interview.
"If I had to be completely honest, my favorite year in TV was the first season of "Lost""
Los Angeles Times - 03 février 2016
En 2013, il réalise et écrit un court-métrage dans lequel figure Katie Mitchell, la soeur de son ancien collègue Steven Long Mitchell co-créateur de la série Le Caméléon.
Le 24 septembre 2014, il s'est fait interviewer par le site Internet lareviewofbooks.org pour donner son avis sur l'état actuel, plutôt positif selon lui, des séries TV.
En 2015 pour la saison 3, il rejoint l'équipe des scénaristes de la série The 100 : "joining @The100writers because i think their show is the true successor to BSG's legacy of tough scifi. the kickass s2 finale airs tonite." (donc fan de Battlestar Galactica ?). Voici ce qu'il dit en 2016 de son travail sur les intrigues concernant le personnage Lexa.
@JRothenbergTV (04 avril 2015) :
"#FF The #THE100 S3 WRITERS start Monday. Please welcome @OKBJGM @hcmcadams @Charm_Nicole @TheJulieBenson & Justine Gillmer to our family!"
Il aime partager et faire profiter de son expérience professionnelle. Dans cet objectif, il coprésente une émission Internet (baladodiffusion) qui s'intitule Children of Tendu pour parler de son métier. Il est également l'auteur de The Eleven Laws of Showrunning qui décrit la démarche à suivre et à comprendre pour devenir et réussir en tant qu'auteur-producteur de série TV. A ce titre, il a été invité en 2018 au 50ème Anniversaire du Programme d'Ecriture Créative de l'Université Carnegie Mellone.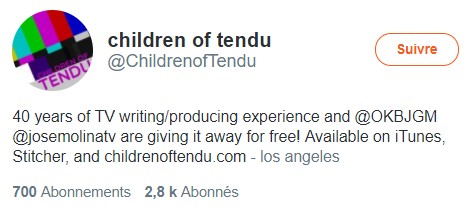 Il a écrit la BD (comic book) et son adaptation en série télévisée The Middleman, diffusée sur ABC Family, ainsi que Shoot this One en 2015 (tome 1) et Shoot that One 2019 (tome 2). Il sort également en 2016 avec Naren Shenkar Animal Badge.
@OKBJGM : "the second book "shoot that one" - coming 2019 - will be a lot more biz focused. "(03/02/2018)
Le 16 décembre 2015, il s'est fait interviewer par le site Internet cnet.com pour parler de son envie de refaire vivre la série TV Xéna la guerrière (projet abandonné en 2017). Fan de cette série des années 90, elle est en effet la preuve de son goût pour les personnages féminins forts. La naissance de sa fille l'a conforté dans cette idée de créer de puissants modèles féminins dans les fictions télévisuelles.
En 2017, il co-présente la soirée des Writers Guild of America West (WGAWest), avant de rejoindre, pour la saison 2, l'équipe de scénaristes de la série The Shannara Chronicles :
@ShannaraWriters : "One of our own! @OKBJGM talks TV writing at #Wondercon2017" (02/04/2017)
ainsi que celle de la série Netflix The Dark Crystal, préquel du film de 1982 :
@OKBJGM : "the dark crystal is coming back! as a netflix series! i am part of the team! it is a childhood dream come true."
‏ @sugarjonze : "So excited for this, not least because @OKBJGM is on the team, and not just because I have a Gelfling name." (18/05/2017)
RECOMPENSES :
2005 - 57th Annual Emmy Awards
¤ Site officiel : okbjgm.weebly.com ¤
¤ Page Facebook : javiergrillomarxuach ¤
¤ Compte Twitter : @OKBJGM ¤
¤ Compte Tumblr : okbjgm.tumblr.com ¤
¤ Compte Instagram : okbjgm ¤
¤ Compte Youtube : chaodai ¤
- - -
Ses messages Twitter :
- "2019 - the year in which alll the work i did in 2017 and 2018 will finally see the light of day! #darkcrystal #bloodandtreasure #cowboybebop (maybe?)" (02/01/2018)
- proud to announce that i have been hired by a major studio to pen a gritty reboot of "the yule log". budget will be about 200 million, the first two installments will be shot back-to-back, and we will be launching a shared "yuliverse". (20/12/2018)
- if we had done half as good a job on seaQuest as they do on @Octonauts, we would have gone ten seasons, a movie, and three spinoffs! (02/12/2018)
- my first #CowboyBebop writers room doodle! (28/11/2018)
- trying to learn how to write for tv? love tv and want to know how the sausage is made? my outlines, pitches, and scripts - for sold and failed work - are available for you for free at #writing #tvwriting #screenwriting #becauseimnicelethat (10/11/2018)
- friends, it was an honor working with @matthewfederman on "blood and treasure" - and he has some real talk here on writing for tv! (22/09/2018)
- STILL NO EMMY NOMINATIONS FOR "THE MIDDLEMAN"! seriously, academy. WTF? (12/07/2018)
- my yearly reminder that no award is an ultimate - or even objective - metric for the quality of a work of art. fuming over a "snub" means giving others the power to sanction your taste or validate the merit of your work. getting to make art (especially for pay) is its own reward.
- i appeared in the pilot for "ancient aliens" as a favor to the producer and regretted it immediately. the entire series is a valentine to the racist idea that brown people can't design, engineer, or build monuments. happy UFO day. (02/07/2018)
- instead of "genius", tv showrunners would do well to work on "humility" - is in the knowledge that without everyone around you doing their job to the best of their ability, the showrunner is just the guy with the best laptop. (15/06/2018)
- me and @ImprovisingPaul and @narenshankar - we worked together in seaQuest some 22 years ago and somehow survived and remained friends! (28/01/2018)
- so frustrating... "the #darkcrystal - age of resistance is filming", it's awesome, and i cannot share anything about it with anyone! this is the hardest surprise party i have ever been involved in planning! (11/01/2018)
- sexism was so much the norm in the writers rooms of the mid nineties - when i began my career - that its practice and language is evident even in the dialogue and actions of the heroic characters of the shows themselves. (16/11/2017)
- me and @JoseMolinaTV rehearsing our new pitch in front of 200+ writers at the @WGAWest - we figured most writers never get to see others pitching a show, why not shre our process? today we go on our first network pitch with this material. (15/11/2017)
- hey, world, go watch #ShannaraChronicles - tonight! why? i WROTE IT! (also, it's a darn good show!) (25/10/2017)
- fan of #the100? bid on this funko signed by @MisElizaJane and help #PuertoRicoRelief! (20/10/2017)
- in which *most* of the writers of #thedarkcrystal share a drink and talk gelflings! (29/09/2017)
- am i alone in wishing that kiefer sutherland had played jack bauer with the same affect he used to play "dr. schreber" in "dark city"? (24/09/2017)
- #the100 alums @BrooseMiller, @sugarjonze and @Dorothy410berry on the cover of the NYTimes winning an emmy for #TheHandmaidsTale? priceless! (18/09/2017)
- truth and reconciliation are greater than vengeance. (15/09/2017)
- the secret to good writing is having multiple ways of saying the same thing. (13/09/2017)
- writing serialized tv is like that saying from the boxing world: "everyone has a plan until they get punched in the face." (22/08/2017)
- freedom of speech does not mean freedom from consequence. (12/08/2017)
- 1984 is still relevant because it's not about prediction but, rather, the lengths people go to screw others over when power is on the table. (23/07/2017)
- Don't get fired for being a diva. Get fired in spite of having done your job well. #ChildrenOfTendu #SDCC (22/07/2017)
- My definition of 'Hell on Earth' is spending 2 years developing 10 episodes of television.
- emmys, and awards in general, mean a lot of things, but none is an objective measurement of a person or project's value to art or the world. (13/07/2017)
- hey @netflix the @nytimes likes #themiddleman, why not put it on your streaming service? (30/06/2017)
- just watched "the dark crystal" in a recent unearthed 70mm print. what a pleasure. can't wait to return to the land of thra. #thedarkcrystal (16/06/2017)
- Only way #DowntonAbbey finale would've satisfied was if LadyEdith took a thrower to the place (09/06/2017)
- if you want to be a writer, the first, and most important question you need to answer for yourself is "what do i need to say to the world?" (25/05/2017)
- any network/studio/producer script note that includes the word "nuance" is dog-whistle code for "i'm really gonna fuck your shit up now". (17/03/2017)
- great films aren't great because they are perfect, but because the cracks in their perfection open a space for the audience's imagination.(16/03/2017)
- every time a captcha asks if i'm a robot, both my psychologist and my psychiatrist dial the fire department.(13/03/2017)
- network sales binder from my first pilot... exactly why aren't we in season 24 of "the van helsing chronicles/legacy"? (04/03/2017)
- that time when over 10,000 #xenites sent me a petition! i read this entire binder, for what it's worth! #xena
- old parking pass or proust madeleine?
- but i became a writer precisely because i don't have the stomach for pugilism. i work with collaborators. that to me is the natural state. (02/03/2017)
- ok #xenites - here it is, in my calendar, in ink! zeus bless every last amazing one of you! #xena (20/02/2017)
- after thirty plus years of fandom, i finally get to go see @jeanmicheljarre live! (26/01/2017)
- i finished my personal writing project. 24,000 words. and there's still 34 minutes to go in 2016. (01/01/2017)
- in the future, everyone will be right about something for fifteen minutes. (29/12/2016)
- oh... the "fall season finale"... or as we professionals call it "episode twelve." (15/12/2016)
- i ADORE "die hard" and consider it the last perfect script of the 80s, but hearing "it's a christmas movie, ha!" like it's news is tiresome. (13/12/2016)
- my love of the entire matrix trilogy, from beginning to end, only grows with age. that's right. even the merovingian. and captain mifune. (29/11/2016)
- there was a time when my favorite shows were 24 and gilmore - when mary lynn rajskub appeared in both i pretended chloe was on a mission.
- in success, tv shows are therapists couches for their creators. in failure they are apologia for their worst, yet most cherished, traits. (27/11/2016)
- just mail @YanicTruesdale the freakin' emmy for his mini fridge freak out in #GilmoreGirlsRevival - that was phenomenal! (25/11/2016)
- i am waiting for the pop-up "kirk's" diner myself. #GilmoreGirls #GilmoreGirlsRevival (05/10/2016)
- i might have snuck a look at the codex of paranor today. #shannarachronicles #shannara (30/09/2016)
- awesome when a show i wrote on quotes another show i wrote on! (22/07/2016)
- an "original idea" is just a remake/reboot of something you didn't know existed previously. (11/07/2016)
- " ‏@ATXFestival : Now @OKBJGM takes us back to 1994 and SeaQuest & got permission to write an open letter to the Rescue SeaQuest campaigners #FandomRising" (10/06/2016)
- "in order to better secure the chances of a series pickup, i am strongly consider changing the project's name to "chicago xena" #isthatok?" (15/05/2016) [en référence à la série dérivée de Chicago PD, l'une des rares nouvelles créations de série confirmée pour la rentrée 2016]
- "if your favorite tv show got cancelled, don't be sad it's over, be glad it happened: the odds against its existence were astronomical." (12/05/2016)
- "here's your daily reminder that i am not/was not in charge of deciding whether the original cast would/could return to #xena - thanks!" (25/04/2016)
- "never watched a single episode of "californication" would have watched six seasons and a movie of "califormication"." (24/04/2016)
- "today is the first day in weeks in which the tweets excoriating me for xena outnumber the tweets excoriating me for lexa... so, progress? [...] in all seriousness, both #xena and #lexa fans have shown me exceptional kindness and i am grateful for your power, passion, and courage." (30/03/2016)
- "today is the day I hand over my personal copy of the script to the most controversial episode of #the100 [...]" (25/03/2016)
- "today, a very generous man callee me a "bon vivant." i quickly assured him that i am merely a "vivant." "(17/03/16)
- "things the xena reboot will also be about: courage, redemption, ass-kicking, ancient greece, scrolls, quarterstaffs, and the greater good."(14/03/16)
-"obvs #the100 is the brainchild of @JRothenbergTV, but it's an honor and i'm taking many lessons learned with me!" (26/02/2016)
- "thanks for watching/tweeting with us, hundred-kateers! it's an honor to entertain you and your fandom means the world to us! #the100" (11/02/2016)
- "why hasn't anyone answered thw burning question of the #GilmoreGirls revival? will. there. be. caesar. #nocaesarnopeace" (06/02/2016)
- "i love when we do full scenes in trigedasleng - really makes our world feel lived in. #the100" (29/01/2016)
- "for the record - great to have my name over henry ian cusick - his character on lost was named after my high school drama teach! #the100" (22/01/2016)
- "that was my credit! i work here! #the100"
- "when pitching the end of a teaser on #the100 i would imitate agent johnson from "die hard" and say "then we hit 'em with the french horns!""
- if you doubt my commitment to #the100 don't forget i named my daughter indra! #itsacoincidencebutstilldamn"
- "before any livetweeting, let's give a shout out to @The100writers one of the finest gangs of sickos I've ever had the honor of working with!" @The100writers : "Much love, @OKBJGM! #The100"
- "if you are looking for a series that isn't merely awesome but also has a truly progressive approach to lgbt relationships, try #the100!" (10/01/2016)
- "if you just got here b/c #XenaReboot check out the show I've been working on all year, #the100, created by @JRothenbergTV it. is. awesome." (17/12/2015)
- "i did a lot of work i'm proud of in 2015, but this essay is my favorite and most personal."
- "any day i find out my beloved jake 2.0 is finally coming to dvd is a GREAT day!" (12/11/2015)
- "hey the world (...) - JAKE 2.0 IS COMING TO DVD! "
- "a fun thing about joining #the100 in s3 is i get to watch people discover s1 & 2 like i did. never been this happy to be late to a party!" (10/11/2015)
- "finished a new spec pilot on sunday... post-scriptum depression is a gnarly beast."
- "why am i not psyched about ghostbusters reboots? as one of the original writer/producers on lost, i know the value of lightning in a bottle." (10/03/2015)
Tweet ~ ‏ @nataliemorales :
Tweet ~ ‏ @NZWritersGuild :

Tweet ~ ‏ (@AlanGSmyth) :
- "#tbt Working with @OKBJGM is always a treat." (29/06/2017)